To demonstrate to a client how to treat and prevent moisture problems that occur in homes and businesses can certainly represent a way to earn an honest living.
The best ways to properly treat moisture problems that occur in homes and businesses vary somewhat. Although in some ways, these ways are connected to each other, since they all have the same origin.
According to information gathered, both the roofs and walls of both buildings are built with similar construction materials. Likewise, the land where these infra structures are erected is also similar and they have their construction permits.
The subject that we are going to deal with in this opportunity, has the objective of informing the treatment and the prevention that must be followed when there are problems of humidity in houses and businesses.
Everything depends on the type of construction to which we are going to refer, for which we must inform ourselves with the constructor which are the urban variants where the construction is going to be erected, to verify the stability of the land.
We go to the different departments of municipal engineering to inform us if there is no danger of sinking due to water pumps or rivers near those lands.
This type of check is carried out by cautious people who do not want to encounter constructions that present the serious problem of rising dampness generated by the proximity of water sources.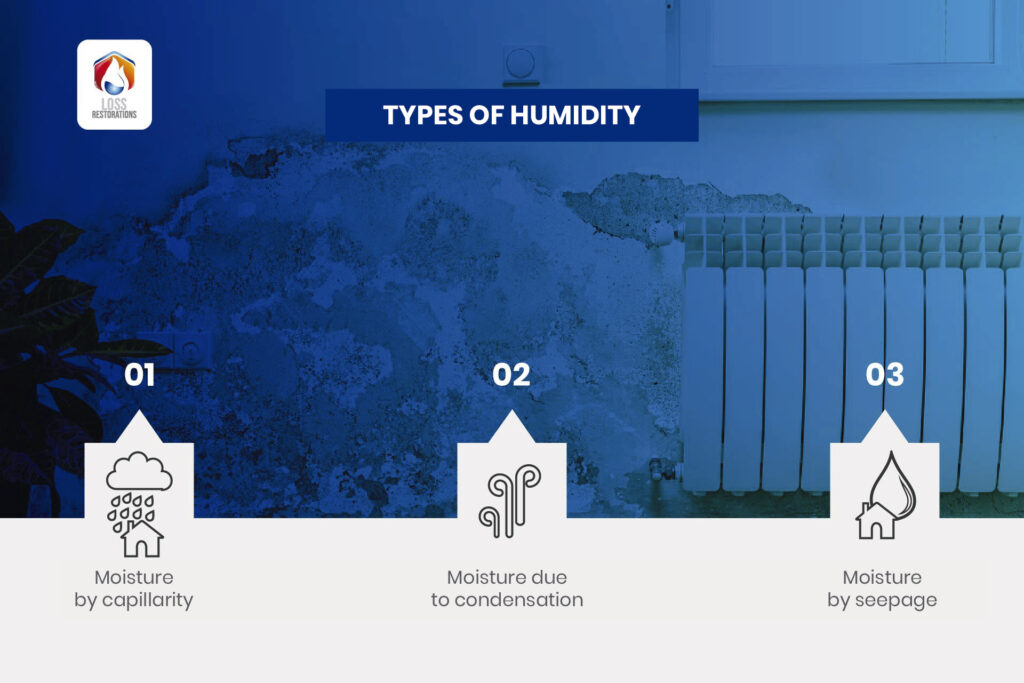 Causes of damp problems in homes and businesses
Most people, for sure, are trying to find out what are the causes of dampness problems in houses and businesses and have not found a satisfactory solution to their problem.
When looking for solutions, this question is very important, since everything will depend on the type of humidity that affects your property, since according to experts in the field, there are three different types of humidity. Engineers, masons, plumbers and laborers call them by the following names:
Capillarity.
Condensation.
Seepage.
As you can see, each of them has its own characteristics and so, for example, we can say that in the first case it is a type of humidity that comes from the soil where the building is erected.
To explain better, most of the grounds and soils where buildings are erected, are known as saturated soil where water is obtained, which in some cases, may contain some fat.
This water is pushed to the surface, causing it to rise by the natural capillarity of the building materials.
For the second case, it can be stated that generally this type of condensation humidity occurs because, nowadays, all infra structures have heating water and hot water.
When this type of humidity appears, fungi and molds appear; this, in addition to disfigure the walls and ceilings, the atmosphere is rarefied with bad odor.
The most common of all, is the third case, in all types of constructions, since this can be originated by failures in the sealing of the expansion joints, or because the waterproofing materials have worn out.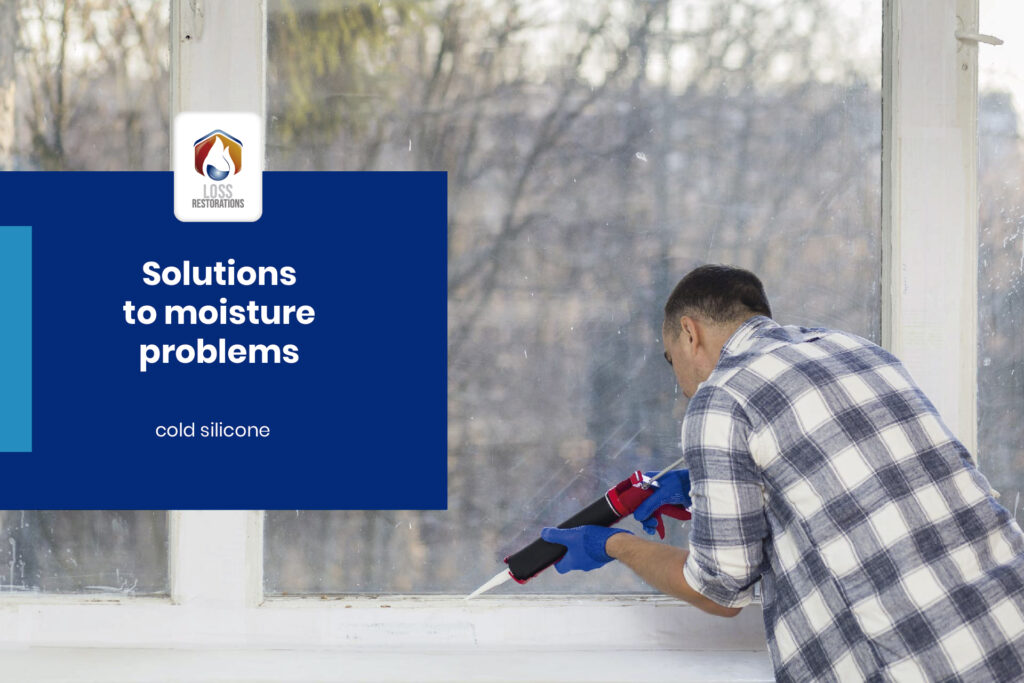 Solutions to moisture problems in homes and businesses
Thanks to technical and scientific advances, nowadays, waterproof materials are available that avoid the havoc that water, leaks and filtrations can cause in our properties.
It is natural that when it comes to leaks in the roof of the house or business, the most indicated and recommended is to restore the asphalt mantle with which the roofs or upper floors of buildings are waterproofed.
In order to avoid and solve the filtrations in the windows of the bathrooms, the material that was used in the past was the mastic which is very difficult to obtain in the modern hardware stores.
Nowadays, this type of inconvenience is definitely improved with a good sealing carried out with a good proportion of cold silicone, which perfectly seals all possible cracks, and in this way the humidity problem is solved.
The best way to find solutions to leaks is to hire specialized personnel
If your roof is leaking due to the rainy season, you should seek help immediately. Generally, roof repairs are done when the weather is favorable for the materials to be used to seal properly.
It is advisable to work on sunny days, so that the surface is completely dry. The materials used to seal the filtrations and leaks in the roofs for example, are membranes in liquid paste or with fiber, and which should not be walked on after their application.
The placement of these materials is very simple, but the idea is to have it done by specialized professionals that you hire for it. For here the main thing you want is that the problem is solved in the best way and not have to suffer later by the annoying leaks that eventually deteriorate everything.
Undoubtedly, we have all learned something in the course of our lives, but there are complex situations that merit requesting the help of professionals in this area specifically.
Actually, the best solution to the problems of leaks will be found by going to Loss Restorations, which have specialized personnel in these matters.
It is very likely that this procedure will be expensive, but by hiring one of these specialists you can be sure that your work will be guaranteed and therefore this will translate into time and money savings.
We recommend not to allow leaks to ruin your property, your personal library books, clothes, furniture and some appliances of your patrimony.
It is recommended to business owners to avoid at all costs that a leak ruin the materials, household goods, supplies and other items you have stored in your business establishment or offices.